Modern POS systems have come a long way since the first analogue punch key cash registers – and it's all because of technologies such as transistors and integrated circuits, magnetic ink character recognition, barcoding, magnetic stripe cards, consumerists of the PC, and improvements in broadband connectivity.
These innovations have transformed POS into a foundational in-store operational tool that supports functionality for automated promotional and discount execution, store administration and bookkeeping, managing inventory management and customer data capture.
While we have made significant progress to incorporate new functionalities around POS, it is not enough to simply support the wave of digital transformation that is already here.
POS Systems for Retail Revolution
For retailers to successfully set themselves apart from the competition and cater to customers' needs, they must have a POS system that incorporates various omnichannel functions and continually develops to support automated processes for executing promotions and facilitating cash-and-carry transactions.
There are three key POS innovations that retailers must consider if they want to deliver a seamless omnichannel journey and differentiate their in-store experience. They include: click-and-collect, send sale and endless aisle, and mobile.
What is 'Click-and-collect'?
Click-and-collect is a well-known omnichannel concept, but retailers must understand that POS should support two different scenarios.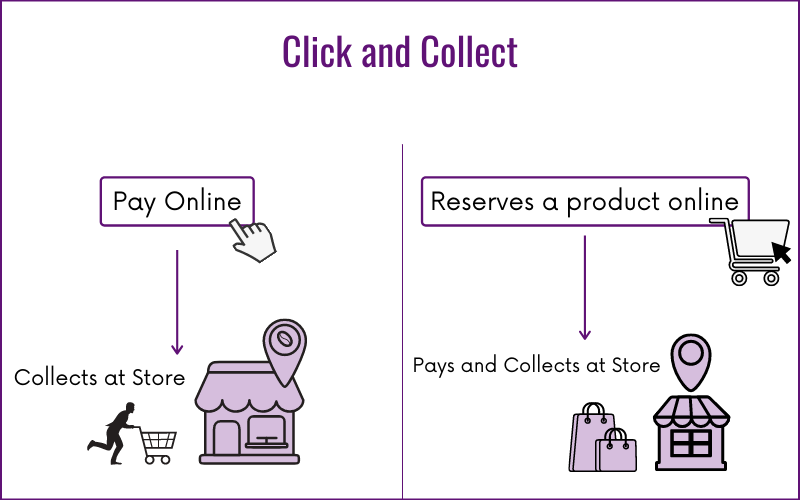 In the first scenario, an online customer pays for an item and collects it in a store. The sales associate gives them the product when they arrive at the store, and it marks the order as 'picked up' in the POS.
Meanwhile, in the second scenario, an online customer reserves an item in a particular store and defers payment until the sales associate has presented it to them when they arrive in the store. To ensure success, retailers must configure and automate specific rules and processes for each scenario in their POS system.
What is 'send sale and endless aisle'?
Now that customers are more connected, POS systems are incorporating 'send sale and endless aisle' functionality to support customers being able to purchase their desired products regardless of their location.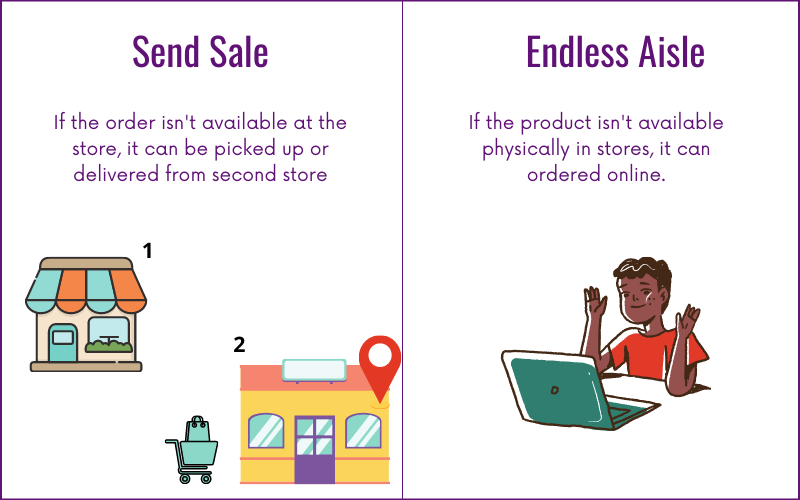 The 'send sale' capability allows customers in one store to reserve or purchase items that are physically located in another and gives them the option to have the order picked up from or delivered from the second store.
Meanwhile, 'endless aisle' provides customers with the opportunity to buy items that are not part of the physical store assortment but can be found online or ordered specially. Both capabilities allow store associates to save a sale or increase average ticket value. The key for retailers is the ability to perform these capabilities with others on the same transaction seamlessly and efficiently without customisation. For example, they should be able to perform a 'send sale, 'endless aisle' and cash-and-carry function in the same transaction.
What are Mobile POS solutions?
Mobile POS solutions are key for retailers who want to deliver a personalised, interactive experience to individual consumers. They enable retailers to accommodate customers' shopping habits by allowing them to start, change, or complete transactions anywhere in the store.
With increasing integration of unified commerce, POS systems are increasingly providing in-store associates with a seamless view of customers to facilitate 'clienteling'.
"Clienteling" is a method that aids the retail sales associates to establish long-term relationships with their primary customers on the basis of their preferences, behaviours, and buying habits.
For example, if a customer researched a product online prior to visiting a store, an associate can use that data and other analytical insights from their profile to start a conversation and drive the purchasing journey.
Other mobile capabilities allow customers to interact with associates during the shopping experience via chat or requests for help. The data being pulled from these mobile technologies means that retailers can offer ­better-informed customer service, quicker payment processes, greater access to special offers, and more real-time personalisation.
Other POS capabilities for retail revolution
Several other exciting developments are also fuelling advanced POS capabilities. Cloud adoption continues to drive innovation through faster upgrades and better integration; minimal friction payment functionality is streamlining the checkout process; and the 'cashierless' store concept is revolutionising how consumers engage.
However, to enable these capabilities and avoid silos, retailers must have an enterprise solution as the foundation for seamless integration. They must also develop a prioritised roadmap around desired capabilities that transform and enhance the customer experience.
Keys to enhance customer experience
One of the most important parts of the customer experience at your retail store is the point of sale
(POS), or point of purchase (POP), when transactions are completed. It stands as a crucial and decisive moment, for several reasons:
It's the last chance for the customer to abandon the sale.
Online retailers have to worry about cart abandonment, but that doesn't mean physical retailers are off the hook. With a long line, a bad experience, or confusion about a product, it's still possible for a customer to abandon the sale here — and that means lost revenue.
It's a point of guaranteed interaction.
Even if you don't have floating salespeople in your store, your customers are guaranteed to interact at the POS, even if it's just with automated software. This interaction will form the foundation of your brand reputation — or affect the reputation you've already built.
It's the last impression a customer gets of your store.
First impressions get all the attention, but last impressions are just as important, if not more so in a retail environment. This is your last chance to make your store memorable.
It's the last chance for questions and concerns.
This is also your customers' last chance to ask questions or address concerns about their purchases. They need to feel comfortable voicing those questions, and get direct, honest answers.
It's a critical opportunity to gain or lose time.
The biggest temporal holdup in retail stores is waiting in line to finish payment; this is your chance to distinguish yourself from your competitors.
So, what can you do to improve this pivotal experience?
Strategies for mastering POS
These are some of your most powerful assets in maximizing the customer experience at the point-of-sale:
Choose the right software and devices.
There are literally hundreds of choices for a retail POS system, and the decision is even more complicated when you consider both software and hardware options. You'll need to evaluate your needs and priorities far in advance of your decision, and do exhaustive research to land with the platform that's most appropriate for your business.
Train your staff on the importance of this interaction.
Aside from your POS system, the biggest variable here is how your staff handles customer interactions. They have the power to make the experience more positive or negative with their tone of voice, helpfulness, speed, and abilities. Make sure they're properly trained on your store policies regarding transactions, and that they understand how pivotal the POS moment is for customer retention.
Prioritize speed.
Speed should be one of your biggest priorities in POS; faster transaction times mean you can process more customers per minute, and all those customers will walk away with a more favorable impression of your brand. Shave time by choosing a reliably fast POS system and optimizing the checkout process.
Accept many payments.
Customers these days may prefer one of several different payment types, including cash, credit cards, and digital services like PayPal. The more payment options you offer, the more people you'll be able to please.
Offer receipt options.
Similarly, people may have differing preferences when it comes to receiving receipts; some want a paper receipt, some want digital, and others don't care at all. You should be able to offer any of these options.
Be transparent and answer questions.
Train your cashiers to ask incoming customers if they have any questions about their purchases, or if there's anything they missed in the store. It's an opportunity to secure another sale (if they missed something), and ensure that the customer has been satisfied with their experience so far. You'll also want to provide information as transparently as possible, establishing trust with the customer.
End with a positive note.
Whatever it takes, end the transaction (and therefore the entire customer experience) with a positive note. That may mean including a slight surprise with every order, like a discount for a subsequent visit, or just offering a polite smile and a bid to have a good day.
If you can incorporate these seven important elements into your existing POS strategy, your customers will walk away with a better impression of your business, and you'll maximize customer retention—one of the most important factors for long-term success. Investing in the right POS software may cost some money upfront, but most of these changes won't take much time or effort; all you have to do is make the commitment to implement them.
POS Trends
In some past years, the digital revolution has been the most important factor to disrupt the retail industry. It was when credit cards made their debut in the 1950s by Frank McNamara. The industry had faced a disruption. But the new emerging technologies are shaping the retail industry for a better customer experience both in-store and online.
The digital revolution continues to change the retail landscape, which a few years ago was unthinkable. It also brings a change in Point of sale systems and it became an essential tool for any today's brick and mortar stores. A recent analysis report reveals that the Point of sale (POS) terminals industry will reach USD 116.06 billion by 2025, with a CAGR growth of 9.9%, which is not too bad.
Nowadays, as business owners depend on data to make better decisions for their business and customer demanding safe and unique shopping experience for them, which makes POS systems a bridge between businesses and consumers. So, it is important for retailers to understand the significance of big data, in-store analytics, and cloud technology.
POS industry has been changed a lot in a few years despite that, new technologies are emerging fast. Business owners and retailers should always be updated with the latest trends coming in the industry. Here are a few point of sale trends which should be on your watch –
Increase in Mobile Payments
The digital push also brings a change in payments for the retail industry. As the numbers of mobile user grow, users tend to pay from their smartphones. It took us away from the two industries – cash and cash registers. This encouraged the technology to move further and create a portable Point of sale solution for the retailers.
In India, where cash used as a preferred mode of payment, digital payments paved their way slowly and now its tasting success as consumers in cities prefer to pay from their card and wallets than cash. Lots of startups with new technology brings digital wallets which enable users to pay from their phone & some other payments startups brought a mobile point of sale (MPOS) technology for retailers so they can accept card payments easily and create an engaging & personalized shopping experience for their consumers. Now in future we can expect to see more and retailer adopting a mobile point of sale solution to accept payments from cards, mobile and cash as well.
Usage of Big Data & Analytics
Technology isn't the only thing that pushed us for a change, demand also did the same. this is the reason retailers turning to the big data and in-store analytics to understand what going on in the store, so they can make better & data-driven decisions for their stores.
The emerging technologies have helped to end the problems for the small retailers with the type of data which was only accessible for the large enterprises and big retailers.
Perhaps we will see the use of big data and analytics in future applied in every stage of the retail store process to determine trends, predicting the demand for fast-selling products and spot the customers who are more likely to purchase those products.
The best use of big data maybe depends on the location in the store where customers are to make better decision to track, stock and refill product on a daily basis.
Analytics helped the retail industry every time by providing tools to track how their business is performing and consumer shopping behaviors and pattern.
Adoptions of Cloud Technology
Retailers these days want their store transaction or sales data to be accessible quickly from their smartphone, tablet or desktop wherever they are. And that's where cloud technology comes to the rescue for retailers.
We saw the growing number of POS systems come up with the integrated cloud solutions in the systems. And in the future, we can see the increase in the adoption of cloud-based solutions by many small-medium-sized retailers. Meanwhile, these small-medium businesses (SMB) or retailers are often agile and aren't connected to a large, complicated system which makes it easier for them to switch to a unified commerce technology.
The biggest advantage of using a cloud-based POS solution is that a retailer can easily access their data, upgrade their software across all the stores at the same time. Today's POS systems come with integrated cloud technology not only on hardware devices but also on software and card payments solutions as well.
This integration of cloud-based solution into POS systems will reshape the entire POS industry to make doing business easier for the retailers. Multiple stores can be upgraded and updated in just a matter of minutes, isn't it wonderful?
Personalized In-store customer experience
As we mentioned in previous points, how this emerging technology in the retail sector is helping retailers to make better decisions for their stores and creating a better customer shopping experience. But to personalize their customer experience, a business needs to know them first. According to a survey of 2,200 consumers, 78.6 percent of consumers said that they will only likely to engage with a brand if their promotional offers are customized to how they have interacted with that brand before.
If you want your customers to keep coming back to your store for shopping and want to gain new customers in your store, then you need to create a hyper-personalized marketing approach. You need to create a buyer persona to approach new customers and repeated customers, you can achieve this with artificial intelligence tools. And with the emerging new mobile POS technology, it is easier for retailers to offer their customers several choices to accommodate them with their shopping.
What a customer experience from a retailer is, consistent experience across the store and every channel. As the demand for more personalized experience from customers on the rise, we can expect to see that additional features will come to the rescue of retailers. With that, they can track their customers' shopping behaviours, engage with them with great loyalty programs to create a better shopping experience.
Demand for omni-channel POS Systems is on peak
Omni-channel POS systems are making waves, as more and more people use mobile technology.
Today, everything is in the "cloud." This has pushed manufacturers to further revamp the POS system. Because of so many consumers reaching for their phones to pay for items and use store membership discounts and coupons, it's no longer enough for POS systems to simply facilitate cash, credit, debit, or gift card purchases anymore.
POS systems nowadays are expected to do much more than simply complete transactions. This is the reason why companies, such as BooksPOS, designed highly efficient and technically savvy POS systems capable of tracking employee activity and inventory, delivering invoices, providing real-time information, even operating when the internet is down, and offering applications merchants can easily download for additional features that make running an organization easier.
However, while POS systems have indeed come a long way, these advancements will surely continue alongside the ever-develop realm of technology.
What's more…
Having a smart retail POS system becomes important for businesses to offer their customer a seamless experience. As the technology continues to develop, the POS systems are becoming more smart, efficient, secure and affordable for the retailers to improve their business operations. Retailers should be updated with new trends and features when choosing a POS system for your business.
4 key Trends Changing Traditional Retail POS
In the digital age, retail point of sale (POS) solutions have gone through a makeover. Nowadays, it's common to see sales associates use a smartphone, tablet or scanner to process a sale before the customer gets to the cash register.
The trends discussed here are just the beginning of what makes the difference between what traditional retailers are still using, and where they should be.
Here's a look at four of the top trends changing traditional retail POS systems and, ultimately, the retail landscape.
More ways to capture customer data: Retail POS systems
POS systems are becoming smarter in the sense of being able to gather customer information and associate it with a sale. Retail POS software can prompt sales associates to enter a customer's demographic information, like ZIP code, phone number, age range or gender. Also, a retail POS system can be prompted to gather only certain customer information when a specific product is purchased. If the sales associate cannot ask the customer for more specific information, the retail POS solution can still link a customer's demographic information to a sale.
Mobile POS solutions gain popularity:
As more retailers look to apply mobile retail POS solutions in their stores, they still must determine if mobile POS is the best alternative for their checkout process.
For example, you could process a sale on your mobile phone, but the mobile POS system is likely operating with its own POS system and not integrated with the rest of your retail POS devices or backend systems.
You also need to consider how your mobile POS system will process credit cards, record a customer's signature to allow transactions, or deliver receipts. Can your smartphone touchscreen record a customer signature? Should your smartphone connect to a printer to produce a receipt or only offer an email receipt option to the customer? These are just some factors retailers need to consider before implementing a mobile POS system.
Using your retail POS solution online or offline:
With an online POS system, a sales transaction is processed through a central system. When a POS system rings up a handful of items, the register is actually communicating with the central system. The central system relays the product information, price and different information back to the store's individual retail POS system.
An offline POS system is self-contained, meaning it can operate with no type of connection. If it can't connect to the central system for any reason, it can still complete a sale.
An online or offline POS system will naturally lean toward specific situations. For example, let's say you want to sell your product at a convention. You can't bring your central POS system on-site, so your retail POS system must be self-contained. However, the biggest drawback to an offline POS system is that it may not know the inventory at different locations as reliably as an online POS system would.
Some retailers want to implement a mobile POS solution into their stores for convenience. Maybe you want your sales associates to interact more with customers as a way to improve customer service. Tablets or smartphones can help them process a sale without the customer going through a checkout line. This would be beneficial for high-end retailers that want their customers to be comfortable on a couch rather than waiting at a sales counter.
Flexibility to process special orders
Instead of the traditional workflow of a sales transaction, which involves scanning an item, ringing up the price and getting payment from a customer, a retail POS system can accommodate various workflows.
For example, how should the retailer complete the sale when a customer orders a product online but needs to pay for it in the store? Or maybe the customer paid for a product online but wants to pick it up in the store — now the central POS system needs to know the payment status of the order, when the product was delivered and when the customer picked it up.
Bottom Line
These are just some top trends changing retail point of sale systems and what retailers should look for as they adapt in an ever-changing retail landscape.
The latest update of BooksPOS has brought a whole new suite of tools that pair perfectly with all types of Retail Outlets. With these tools together, you can create an omni-channel experience for customers while automating your processes and making your work experience easier.
Embrace the new technology while our team ensures 24×7 support in your operations