Thinking to start a small business of your own? There are millions of businesses running all around the world. Many people try starting with a new business idea, yet determining the steps is a big deal and can be a hurdle for many too.
The fact is, it's just a matter of a simple idea to start with a small business. Further, whether the idea succeeds depends on only one word – ACTION!
Don't be misled, starting a business itself means inviting a set of challenges, risks, and competitions. However, if you have a right attitude and determination towards your goals, then no one can stop you. You just need a directive guide to pathway your hard work.
We are here to give you the right guide, so you go with the flow for how to start a small business.
Starting and Managing a Small Business
Like we did since our childhood, we think we can learn everything. However, this is not the case in the entrepreneurial world.
Entrepreneurship requires the will of putting your one foot ahead of the other, whatever may be the consequences – we learn from what we do. Start a small business and you will come to know about its various risks and strengths.
This guide will help you know a proper step planning for how to start a small business. It will further equip you with the essential tools and resources you require at every step of strategizing your business plan, raising funds, and executing important day-to-day business operations.
To start with the journey, let us first know the steps you should keep in mind to start a small business.
Steps to Start a Small Business
To help you understand, we have divided the entire business plan in 11 steps. Stick to one step at a time until it's satisfied and you will on your way to success. Let's start with the first simple step to start a small business.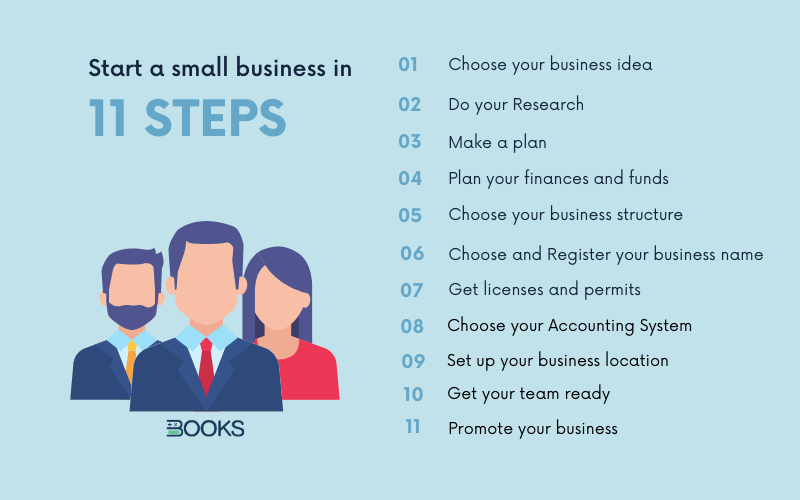 STEP 1: Choose your business idea
The first step involved to start a small business is choosing your desired business idea. Search for the best and unique business ideas to help you get started.
STEP 2: Make your research
Before you dive into the transformation of imagination to professional work to start a small business, give some time to scrutinize and consider your idea as practically as viable. Further, make sure whether the business model is itself is steadfast as your determination.
Below are some guidelines to start with the research:
Identify your target market
Set your target audience
Research your competitors and the level of competition
Conduct a financial stability analysis that whether your plan can be executed with the available funds.
Further, remember to ask yourself some questions, too, about commencing a business before you take any action.
There are numerous ways you can do this. Explore your market, identify the need through some research and even trial and error. As you go on exploring the market, here are some questions that you should definitely answer:
Is there actually any need for the product/services you are trying to produce when you start a small business?
Who needs your products/services?
Is there any company offering similar products/services? If yes, then what's the competition level?
How will your business go on in the market when you initially start a small business?
What measures will you take if any kind of risk surprises you?
Step 3: Make a Plan
In order to make your business idea a reality, you need to make a plan, a business plan. A business plan serves as a guideline that will pathway your business from the start-up stage of growth and eventually to business peak. It is an essential requirement for all businesses that are new in the market.
An important fact for plan-making is that there are different types of business plans for all kinds of businesses.
If you are thinking to seek any financial help from an investor or other financial institutions, a traditional business plan is essential. In such types, the business plan is usually long and detailed, having a regular set of sections that banks and investors look at when they are weighing your business idea.
If you not seeing forth to seek any financial support, a brief and one-page business plan can provide you visuality about what you wish to achieve, Therefore, make plans on how you will do it.
Business planning isn't a big deal or doesn't necessarily require a huge team. You can do it simply by sitting in leisure, jotting down your plans at the back of a napkin, improving it overtime. Something is better than nothing. So, try to keep up with writing your plan than doing nothing.
Step 4: Plan Your Finances
Planning finances is an essential step before you take a plunge on it. Though there is no requirement for a lot of money to start a small business, it is necessary to make an initial investment along with the capability to cover the day-to-day operating expenses before you are looking for your profits.
Bind together a spreadsheet that expects the onetime start-up costs and the consistent charges that you will need to cover to keep your business running smoothly for a longer period.
The start-up costs for your business include licenses, permits, machinery, insurance, branding fees, legal fees, market research, stock, property leases, trademarking, authority documents, inauguration expenses, etc.
However, the other expenses to keep your business operating include rent, marketing, promotional activities, production, travel, distribution expenses, wages and salaries, your own income, etc.
Combining those number of expenses and requirements is the initial investment you will require covering the start-up and operating costs. Those numbers combined is the initial investment you will need.
To help you better, we have made a simple, free, and ready-to-use, Start-up Cost Calculator. Using this calculator, you can easily find the numbers that you will need to invest initially in your business to go on with.
Now that you will determine the rough figure in mind, there are many funding ways to start a small business and cover that rough number of initial investments. The ways include:
Financing
Small Business Loans
Small Business Grants
Angel Investors
Crowdfunding
Also, if you want to start your business with little or no capital, you can try Bootstrapping. Therefore, you can start with as a minimal investment as necessary. Also, if you go with a combination of the above listed paths, you might find it best.
Though the ultimate aim here is to rely and work through an apt option and make a plan for making up the capital, you require getting a plunge and start with your business.
Step 5: Choose a Business Structure
There are several available business structures. You might opt for a sole proprietorship, a partnership, a joint hindu family, a limited liability company, or a corporation as a business. The business structure you select will influence many business factors such as business name, your liability, how to file taxes, funding manners and more.
To start with ease, you may choose an initial business structure that requires low funding. Further, you can re-valuate your business growth and change the structure as per the need.
However, you may also consult an attorney or CPA to make sure that the business structure you choose fits your plan. It's always worth investing in consultations from professionals as it ensures the apt structure choice and saves you from any contingencies that might occur if you make a wrong choice.
Step 6: Pick and Register Your Business Name
The next step to start a small business is to pick up a suitable business name and register it with the registrar. Your business name in an important factor for almost every aspect of your business. Therefore, it should be a good one that suits and should define your level of work.
However, don't forget to ensure you looked at all the probable implications while exploring your suitable options and choose your business name.
Now, once you have chosen a name to give to your business, you need to check whether it is trademarked or is currently in use. After ensuring, you will register it, fulfilling all the legal formalities.
There are other conditions that are needed to be fulfilled while registering your business name to start a small business. A sole proprietor required to register their business name from none other than their state or country clerk.
However, corporations, LLCs, or limited partnerships can typically register their business name only after we file the formation paperwork.
Withal, remember to register your domain name after you are done with your business name.
Step 7: Get Licenses and Permits
Paperwork is a requisite and an important part of the procedure while you start a small business. There are numerous small business licenses and permits that might apply to your business situation. Basically, this requirement relies on the kind of business you are about to launch and the business location.
However, you will need to make research for what licenses and permits apply to your business while you start a small business.
Step 8: Choose Your Accounting System
To start a small business and run it effectively and smoothly, all the systems should be in place. The one of the most important systems is the accounting system. An accounting system manages all the incomes, expenses, and other financial activities of a small business.
Your accounting system is serves as a major element in creating and managing your budgets. Also, it aids in setting up your rates and prices, conduct business with others efficiently, and file your taxes.
To set up your accounting system, either you can hire an accountant or do it by yourself too. Yet, hiring an accountant can be a better recommendation from us as it takes away some work stress.
However, to start a small business, you will always need a POS Software. A bonus is, what if this POS software offers you an inbuilt and automated accounting software? Good one right! BooksPOS is a single retail cloud POS software for your entire business, multi-stores, or franchisees. Withal, our software offers an in-built accounting software so you don't need any other system with us.
Learn more OR Request a FREE Trial NOW!


Step 9: Set Up Your Business Location
A business location is one of the crucial factor you should keep in mind when you start a small business. It doesn't matter whether you are having a home office, a shared office, private office, or a retail outlet, setting up your business location is significant for the business efficient business operations.
Besides location, you require thinking about your equipment and overall setup to make sure your business location fits for the kind of business you will be doing. You should also consider buying or renting any commercial space for your business to reach out to the better customer place.
Step 10: Get Your Team Ready
When you start a small business, you'll need a staff to look after the day-to-day operations, accounting, inventory, customer service, and more. On the off chance that you will recruit workers, right now is an ideal opportunity to begin the cycle.
Ensure you set aside the effort to layout the positions you need to fill, and the work obligations that are important for each position. The Small Business Administration has a phenomenal manual for recruiting your first worker that is valuable for new entrepreneurs.
If you are not recruiting representatives, yet rather re-appropriating work to self-employed entities, right now is an ideal opportunity to work with a lawyer to get your self-employed entity understanding set up and start your inquiry.
In conclusion, if you are a genuine entrepreneur hitting the independent company street alone, you may not need workers or temporary workers, yet you will at present need your own help group.
This group can include a guide, independent venture mentor, or even your family, and fills in as your go-to asset for encouragement, inspiration and consolation when the street gets rough.
Step 11: Promote Your Small Business
Once you start a small business and it is off ground and operating, you require beginning attracting customers and clients through various promotional activities.
To start with basics, write a unique selling proposition (USP) to persuade target customers. Further, start with creating marketing plans by exploring as many marketing ideas as possible. Withal, research how to promote your business most productively.
Bottom Line
Whenever you have finished these business start-up activities, you will have the entire fundamental bases covered. After you start a small business, the process ends yet. Look after your business's SWOT – Strength, Weakness, Opportunity, and Weakness.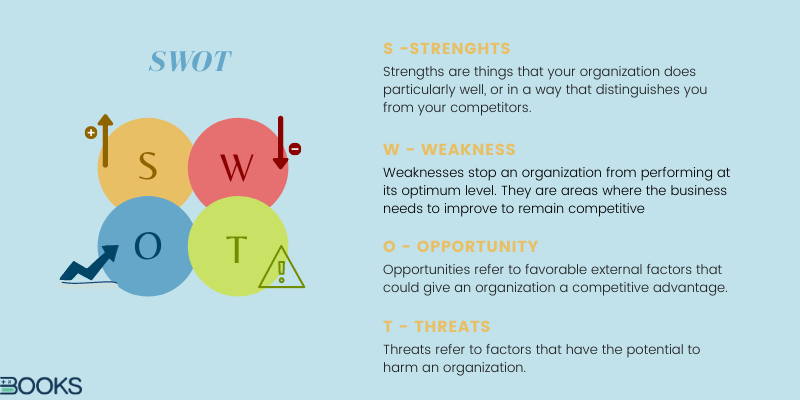 Remember that achievement doesn't occur with no forethought. Utilize the arrangement you've made to chip away at your business, and you will expand your chances of accomplishment.